Hey there! You've probably landed on this page because you know someone with POTS and you need awesome gift ideas. Or, maybe you have POTS and you want to put some new items on your wish list for friends and family. Whatever the case may be, you've come to the right place! The following list has my best gift ideas for people with POTS. No matter your budget, you're sure to find something the POTSie in your life will love and appreciate.


I've rated each idea in this POTS gift guide based on budget. So, if you're looking to spend no more than $25, look for the "$" rating. Gifts that cost between $26-$50 received a "$$" rating. Finally, if your budget is more than $50, check out the items with a "$$$" label.


This blog post contains affiliate links, and I may earn from qualifying purchases at no extra cost to you. As an Amazon Associate, I earn from qualifying purchases. Full disclaimer here.


Vim&Vigr Compression Socks
Price: $$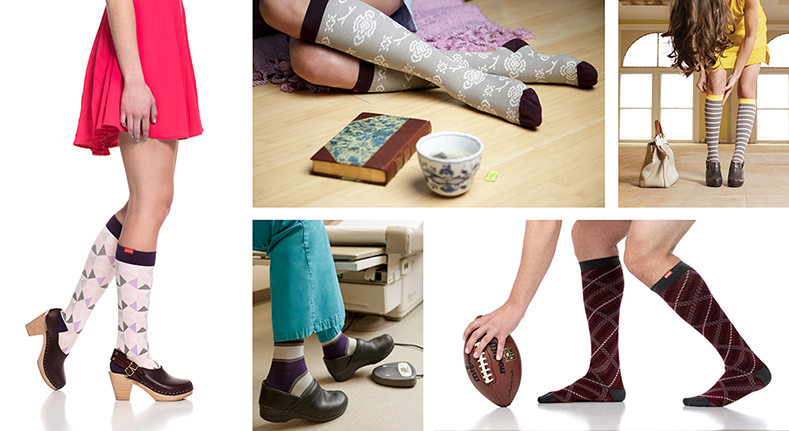 Give the gift of stylish compression socks to the POTSie in your life. These are hands-down my favorite compression socks for POTS symptom management. I truly feel the difference when I wear these, plus, I've come up with several cute outfits with them.
Shop here.


32oz Motivational Water Bottle with Time Marker
Price: $

People with POTS need to drink a ton of water every day. A TON. Help them get their daily fluid intake with a large reusable water bottle that has fun reminders to drink on them. Honestly, I might put this one on my own wish list.
Shop here.


Portable Mini Bike
Price: $$$

These bikes can help people with POTS who deal with exercise intolerance. They can use these bikes from the comfort of home, and this model also functions as an arm cycle. This is a great product for POTS patients to help them get more active and build their exercise tolerance!
Shop here.


POTS Strong Tee Shirt
Price: $$
This is another cool gift idea for people with POTS: apparel! This tee shirt comes in a variety of pretty colors and features "POTS Strong" on its front. Plus, I think it's touching if you buy someone with POTS a gift that helps to spread awareness of their condition. It's a small way to show how much you care!
Shop here.


FitBit Smart Watch
Price: $$$
Smart watches come with a hefty price tag. But if you have the budget, this gift has the potential to tremendously help people with POTS manage their condition. I depend on my FitBit watch and wear it every day to track my heart rate and activity level.
Shop here.


Dysautonomia Awareness Tote
Price: $
How about a cute dysautonomia awareness tote for your POTSie friend? This bag comes in three sizes (the small and medium are $25 or under), so it'll fit all of their needs for doctor's appointments, hospital stays, school, work, or shopping trips.
Shop here.


Yoga Mat
Price: $
I picked this yoga mat because of its thickness and the variety of colors it comes in. A yoga mat makes for another awesome gift idea for people with POTS since many of the strengthening exercises recommended to us are done on the floor. Help make strength training more comfortable by gifting them a thick yoga mat with extra cushion.
Shop here.


iRelief TENS Unit
Price: $$
Give the gift of natural pain relief this year with a TENS unit. My mom first bought this TENS machine for herself, and then I started using it and found it really helpful for my lower back and hip pain. This pain relief method works by naturally blocking pain signals and stimulating the release of endorphins.
Shop here.


Motivational Coffee Mug
Price: $
Remind your chronically ill best friend, special someone, or family member just how awesome they are with this motivational mug. It features a pretty floral design with the words "chronically awesome" written across the front. Another cool gift idea? Fill the coffee mug with electrolyte replenishers, packets of salted nuts or trail mix, and their favorite candy! 
Shop here.



Adjustable Laptop Bed Tray Desk
Price: $$$
Another great gift idea for people with POTS is a bed desk that they can use on bad symptom days. This option is a little pricier than others, but it allows the user to adjust the desk angle to accommodate their position. Plus, it's foldable for easy storage. With this product, POTS patients can still work and study from bed or the couch.
Shop here.


POTS Warrior Sweatshirt
Price: $$
I adore this sweatshirt! It has turquoise dysautonomia awareness colors and a cute rainbow design. Plus, the "POTS Warrior" text on the front would make me proud to wear this sweatshirt any day of the week.
Shop here.


A New Book
Price: $
For some, reading is a favorite hobby to reduce stress. For others, it's a fun home activity they can do on bad-symptom days when they may be bedbound or focused on resting. Support both types of readers by buying them a new book.
Shop some of my recent favorites:
Night Road by Kristin Hannah
Where the Crawdads Sing by Delia Owens
How Not to Drown by Jaimee Wriston


Medical Alert Bracelet
Price: $
POTS patients—especially those prone to fainting—should consider wearing a medical alert bracelet. What better way to show someone you care about them than by buying them a gift that could help them in a medical emergency? You can personalize these bracelets to include information about their medical condition(s), allergies, and emergency contacts.
Shop here.


Book Them a Massage
Price: Varies by service and location
Living with chronic illness is stressful and, for some, painful. Treat the chronic illness warrior in your life to a massage or a spa day. They deserve a day of pampering and relaxation that they can use at their convenience.


Lululemon Leggings
Price: $$$
My sister asked me if the price of Lululemon leggings is worth it. Without hesitation, I answered, YES! I asked for a pair of Align leggings for Christmas last year and have been so in love with them. I wear them when I exercise or travel, or when my lower body is in pain from #bloodpooling. For me, they work the best for pain. So, if the person you're buying a gift for lives with chronic pain, then they may benefit from trying these leggings. (Be on the lookout for sales or discount codes to avoid paying full price!)
Shop here.


Floppy Sun Hat
Price: $
What girl doesn't love a floppy sun hat in the summertime? But what's great about this hat is that it blocks the sun well, allowing us to stay cooler. I wore this hat often over the summer to help survive the heat. Plus, it's super stylish and affordable!
Shop here.


POTS Ribbon Charm Bracelet
Price: $
This POTS ribbon charm bracelet made with a turquoise cord is a simple yet cute gift for any POTS patient. It would make a nice gift on its own. Or, you can pair it with a few other small things like a book, a face mask or foot soak, and their favorite salty snacks (Jerky? Gourmet pickles? Popcorn?).
Shop here.
 

POTS Girl Fall Crewneck Sweatshirt
Price: $$
THIS IS SO DANG CUTE, AND I WANT ONE! It's a crewneck sweatshirt with the clever saying "Pumpkin Spice & Electrolytes" on it. It comes in multiple color options, too! It may no longer be fall when you give this gift, but this is a gift I think many POTSies would like to have for every fall to come.
Shop here.
 

POTS Girl Winter Long Sleeve Shirt
Price: $$
This is basically the winter version of the fall crewneck sweater listed above, but I'm here for it, too! It also comes in multiple colors and features "Feeling Tachy & Full of Cheer" on its front, along with a Christmas tree design. How festive is that?
Shop here.


Liquid I.V.
Price: $

This product for POTS people can be an awesome element of a gift bundle. Buy a new flavor the person to whom you're gifting hasn't tried yet. Or, stock them up on their absolute favorite flavor.
Shop here.


Dysautonomia Sticker
Price: $
This blue rainbow-shaped sticker with the dysautonomia ribbon on it makes for another small, yet thoughtful gift idea for people with POTS. They can put it on their laptop or tablet, water bottle, or notebook. Pair it with a few other small items to create the perfect gift bundle!
Shop here.


Tie-Dye Dysautonomia Tee Shirt
Price: $$
Or, invite the POTS girl in your life to the salty girl gang, as this cool tie-dye shirt says. I love the soft colors, the logo, and the fact that it raises awareness for dysautonomia conditions.
Shop here.


If you've been wondering what to buy for someone with POTS, hopefully, this gift guide has sparked some ideas. Whatever you decide to get, I'm sure the POTSie in your life will appreciate it greatly. 
Happy shopping!



Like this POTS gift guide? Be sure to share it on social and pin it for later reference!
XO,
Laurie