Hey there! You've probably landed on this page because you know someone with POTS and you need awesome gift ideas. Or, maybe you have POTS and you want to put some new items on your wish list for friends and family. Whatever the case may be, you've come to the right place! The following list has my best gift ideas for people with POTS. No matter your budget, you're sure to find something the POTSie in your life will love and appreciate.


I've rated each idea in this POTS gift guide based on budget. So, if you're looking to spend no more than $25, look for the "$" rating. Gifts that cost between $26-$50 received a "$$" rating. Finally, if your budget is more than $50, check out the items with a "$$$" label.


This blog post contains affiliate links, and I may earn from qualifying purchases at no extra cost to you. As an Amazon Associate, I earn from qualifying purchases. Full disclaimer here.


Lined Leather Journal
Price: $
A journal is a great gift idea for people with POTS or other chronic illnesses. They can use it for multiple purposes, whether that's tracking their daily symptoms, practicing gratitude, or expressing their thoughts and feelings. This option comes in a variety of pretty colors, like teal, pink, leather brown, and forest green.
Shop Lined Leather Journal here.


Vim&Vigr Compression Socks
Price: $$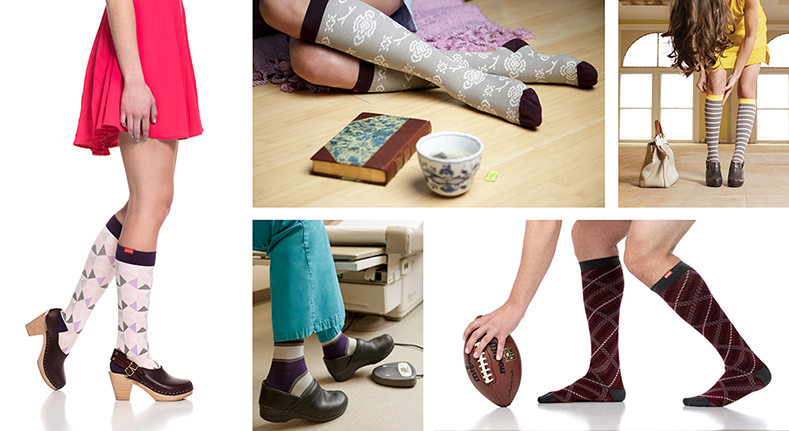 Give the gift of stylish compression socks to the POTSie in your life. These are hands-down my favorite compression socks for POTS symptom management. I truly feel the difference when I wear these, plus, I've come up with several cute outfits with them.
Shop Vim&Vigr Compression Socks here.


Vitassium by SaltStick Products
Price: $-$$
Vitassium makes a variety of products that can help POTSies get more salt in their diets. From electrolyte FastChews to salt capsules to electrolyte drink mixes, Vitassium has what POTS patients need to maintain electrolyte balance and healthy blood pressure. What I particularly love about their electrolyte drink mixes is that they're low in sugar. And I'm loving the pink lemonade flavor right now!
Shop Vitassium FastChews here.
Shop Vitassium Electrolyte Capsules here.
Shop Vitassium Pink Lemonade DrinkMix here.

POTS Strong Tee Shirt
Price: $$
I was tempted to buy this tee shirt to wear during my recent 5K race, but then I remembered it was a Halloween race and I needed to dress in a costume. But this "POTS Strong" tee shirt serves as a reminder of just how resilient and tough we are for all that we endure each day with this chronic illness. And by buying someone with POTS this gift, you're validating that you see their strength and giving them a precious reminder of how strong they are.
Shop POTS Strong Tee Shirt here.


POTS Sunflower Medicine Bag
Price: $
Instead of keeping medications lined up on a counter or in a medicine cabinet, people with POTS can store them in this super cute medicine bag. Plus, it doubles as a travel bag, so they can always have their medication in one place when they're on the go. The bag comes in small and large options and features pretty sunflowers on its front to brighten your day.
Shop POTS Medicine Bag here.

32oz Motivational Water Bottle with Time Marker
Price: $

People with POTS need to drink a ton of water every day. A TON. Help them get their daily fluid intake with a large reusable water bottle that has fun reminders to drink on them. Honestly, I might put this one on my own wish list.

Shop Elvira Motivational Water Bottle here.

CompressionZ High-Waisted Compression Leggings for Women
Price: $$
I decided to try these compression leggings after wanting to find a more affordable alternative to Lululemon. I can definitely feel the compression in my legs with these leggings on. My usual size is a small, and a small fits a little snugly in my waist (which is a little uncomfortable for me because of endo). But I get great compression in my legs—I feel really held in. These leggings are also really soft and made from a quality material that isn't see-through. For $40, these compression leggings are a great alternative to Lululemon leggings and make for a great gift for people with POTS.

Shop CompressionZ High-Waisted Leggings here.

Smart Watch
Price: $$$
I'm going to suggest two options for this gift idea for people with POTS. I've used both FitBit and Garmin watches now, and while I really like them both, I think they better suit different purposes.


Even though both watch brands are useful for exercise, I think the Garmin watch is better suited for people who exercise regularly or who are exercise enthisiasts. The Garmin watch displays more metrics on the watch face during exercise, and it allows you create and upload your own workouts with customized heart rate zones onto the watch. It even buzzes when your heart rate shifts into different exercise zones, which is a really important feature for people with POTS who exercise.


But if the POTSie in your life only wants to monitor their heart rate and they don't care about snazzy exercise features and detailed data reports, then a FitBit may be a better and more affordable option. FitBit watches also track metrics like steps, calories burned, sleep quality, and depending on the model, your heart rhythm. But a lot of the additional features, like heart rate variability and exercise readiness scores require a FitBit Premium subscription to access, so keep that in mind when choosing a model to gift someone!
Shop Garmin Vivoactive 4s here.
Shop FitBit Charge 5 here.
Shop FitBit Sense here.


POTS Warrior Ribbon Necklace
Price: $$
This is the perfect piece of jewelry to give as a gift to a person with POTS. It's a 14K gold necklace with a Cubic Zirconia-adorned ribbon pendant and another circle-cut Cubic Zirconia. The necklace even comes in a box with uplifting quotes on it, such as "You are braver than you believe." This gift is sure to make a person with POTS smile.
Shop POTS Warrior Ribbon Necklace here.

Tote Bag For Chronic Illness Essentials
Price: $
How about buying the person with POTS in your life a cute tote bag? This stylish corduroy bag can be used as a handbag or messenger bag and comes in brown, green, black, or cream. It'll fit everything they need to manage POTS, like a water bottle, medication, electrolytes, or cold packs, making it perfect for a chronic illness day bag.
Shop Corduroy Tote Bag here.

Magsoothium Magnesium and Arnica Infused Soaking Crystals
Price: $
Why go to the spa when you can give someone the gift of a spa day at home with these soaking crystals? I've used this company's products for years for pain relief and to reduce inflammation in sore spots. With these soaking crystals, your POTSie friend can relax by lighting a few candles, playing spa music, and taking a bath. Bonus points if you include bubble bath in their gift bag!
Shop Magsoothium Soaking Crystals here.

Chronically Awesome Mug
Price: $
Remind your chronically ill best friend, special someone, or family member just how awesome they are with this mug! Another cool gift idea? Fill the coffee mug with electrolyte replenishers, packets of salted nuts or trail mix, and their favorite candy!
Shop the Chronically Awesome mug here.


Adjustable Laptop Bed Tray Desk
Price: $$$
Another great gift idea for people with POTS is a bed desk that they can use on bad symptom days. This option is a little pricier than others, but it allows the user to adjust the desk angle to accommodate their position. Plus, it's foldable for easy storage. With this product, POTS patients can still work and study from bed or the couch.
Shop SAIJI Adjustable Laptop Bed Tray Desk here.


POTS Warrior Sweatshirt
Price: $$
This sweatshirt is a little different than the one I included in last year's list, but I love it just as much as last year's pick! It features the acronym "POTS" in a cheetah print design above a cursive-printed "warrior." And it also has a rainbow on it that matches whichever color you pick for the sweatshirt. Plus, the "POTS Warrior" text would make me proud to wear this sweatshirt any day of the week.
Shop POTS Warrior Sweatshirt here.


A New Book
Price: $
For some, reading is a favorite hobby to reduce stress. For others, it's a fun home activity they can do on bad-symptom days when they may be bedbound or focused on resting. Support both types of readers by buying them a new book. Some of my recent favorite reads are The Seven Husbands of Evelyn Hugo by Taylor Jenkins Reid, The Nightingale by Kristin Hannah, and The Guest List by Lucy Foley.
Shop The Seven Husbands of Evelyn Hugo here.
Shop The Nightingale here.
Shop The Guest List here.

Medical ID Bracelet
Price: $$
POTS patients — especially those prone to fainting — should consider wearing a medical ID bracelet. What better way to show someone you care about them than by buying them a gift that could help them in a medical emergency? You can personalize these bracelets to include information about their medical conditions, allergies, and emergency contacts.
Shop Lauren's Hope Medical ID Bracelet here.

UPF50+ Summer Sun Hat
Price: $
What girl doesn't love a good sun hat in the summertime? But what's great about this hat is that it's tightly woven, helping to block out UV rays. Plus, it can keep you cooler on hot days, making a thoughtful gift idea for people with POTS. And it doesn't hurt that it looks so stylish either!
Shop Comhats Summer Sun Hat here.

Stay Salty Stacked Teal POTS Bracelets
Price: $
These stacked bracelets make for a simple yet cute gift for any POTS patient. You get a set of three teal-beaded bracelets, and one of them has "Stay Salty" beads on it for a touch of relatable POTS humor. This would make a nice gift on its own, or paired with a few other small things, like a book, a face mask, and their favorite salty snacks (Jerky? Gourmet pickles? Popcorn?).

Shop Stacked Teal POTS Bracelets here.

POTS Girl Fall Crewneck Sweatshirt
Price: $$
It may not be peak fall season anymore, but I don't know what POTSie wouldn't want this cute and clever piece in their wardrobe! This crewneck sweatshirt features the saying: "Pumpkin Spice and Electrolytes" and comes in many colors, like white, maroon, and forest green.
Shop Fall Crewneck Sweatshirt here.


POTS Girl Winter Long Sleeve Shirt
Price: $$
This is basically the winter version of the fall sweatshirt listed above only as a long-sleeve shirt instead. It has the saying "Feeling Tachy and Full of Cheer" on it, along with a Christmas tree. I'm sure whoever you give this gift to would throw this shirt right on and proceed to play Mariah Carey on an endless loop while doing all the holiday things!
Shop POTS Girl Winter Long Sleeve Shirt here.


Chill Pal Cooling Towel
Price: $
I discovered these cooling towels over the summer while trying to survive the stifling heat of New York City. To be honest, I was a bit skeptical of how well they'd work, but I was desperate to stay cool. The verdict? This towel worked amazingly! All you need to do is wet it, wring out excess water, and wear it! It keeps you cool for a really long time, and once it's dry you just re-wet it to keep using it. This can be a great product for people with POTS who travel, spend time outdoors, or live somewhere hot.

Shop Chill Pal Cooling Towel here.


If you've been wondering what to buy for someone with POTS, hopefully, this gift guide has sparked some ideas. Whatever you decide to get, I'm sure the POTSie in your life will appreciate it greatly.
Happy shopping!



Like this POTS gift guide? Be sure to share it on social and pin it for later reference!
XO,
Laurie