Why, hello there! Welcome to my "Shop My Favorites" page, where I share products that are a vital part of living well with my chronic illnesses.


As someone with POTS and Hashimoto's Thyroiditis, I know how hard it is to cope with all that chronic illness brings. When I was first diagnosed with POTS, I was overwhelmed and struggling to get through the day. I wished I found a resource full of suggestions from someone in a similar situation that I could try on the off-chance that something would make my life a little easier. Most of what I know now I had to learn along the way.


So that's why I created this page: to share what I've learned to help YOU out in any way that I can!


Remember, everyone experiences chronic illness differently, so what works well for me and my symptoms may not work well for you and yours. But I hope you find something on this page that makes your life with POTS or chronic illness a little easier. I hope it helps you cultivate a life you absolutely love despite all you must endure!


This blog contains affiliate links, and I may earn from qualifying purchases at no extra cost to you. Full disclaimer here.


Cooking/Food


Liquid I.V. Hydration Multiplier
and Strawberry Lemonade Pedialyte Electrolyte Powder
I honestly love both of these products, and I keep both in my pantry to switch up the flavors. Both are refreshing and yummy and do wonders for rehydrating my body. Awesome buy for POTS patients!

NutriBullet Nutrient Extractor
I'm obsessed with this item! I use it all the time to make healthy protein smoothies with fruits, vegetables, and protein powder. I also use it to make soups and sauces. This is a must-have for healthy eating and easier meal prep!  

Lodge Pre-Seasoned Cast Iron Skillet
Did you know that cooking in cast-iron is a sneaky yet effective way to increase the nonheme iron content in food? It sure is! Eat some vitamin C with these meals (bell peppers are great!) to aid the absorption of nonheme iron.  

Hamilton Beach 6-Quart Programmable Slow Cooker
A true lifesaver for easy meals when I'm having a low-energy day, or if I've had a busy day and have little energy left to cook. Making bulk meals in this is a time and energy saver because I'll have multiple meals ready to use for lunch and dinner throughout the week. 

Vega Vanilla Vegan Plant-Based Protein Powder Shake
My go-to plant-based protein powder for years now. The vanilla flavor is a staple on my grocery list because it's my favorite flavor and the most versatile for making smoothies.
Power Protein Balls in Maple Dark Chocolate Sea Salt
These delicious protein balls are a great post-workout or nutritious mid-afternoon snack. This flavor tastes a lot like pumpkin spice to me, and I can't get enough of them! Good thing they are healthy!

Blogging (for fellow chronic illness bloggers)

These three legal pages (privacy policy, disclaimer, and terms and conditions) are a MUST-have for anyone with a blog or website! Drafted by a lawyer and professional blogger, these legal pages saved me time, money, and headaches, and now I'm confident that my blog is legally protected. Best investment for my blog!


Exercise


Copper Fit Knee High Energy Compression Socks
Compression socks help my tachycardia, blood pooling, and muscle pain and are a lifesaver when I'm on my feet for long periods. They're also great for traveling!


Fitbit Ionic GPS Smart Watch
I've worn Fitbit watches for years to track my daily heart rate, exercise, and sleep patterns. I wear my Fitbit Ionic every day; a heart rate monitor is truly a must-have for managing POTS.  

Polar H10 Heart Rate Monitor Chest Strap
Recommended by the Cleveland Clinic, this chest strap monitor is the gold standard for precise, real-time heart rate data. I use it for high-intensity exercises, like running or HITT, to ensure that I don't overwork myself, which can cause post-exertional fatigue with POTS.


Lifestyle


VIM & VIGR Stylish Compression Socks
I absolutely LOVE my VIM & VIGR compression socks! If you're looking for compression socks with fun and fashionable patterns plus all the benefits of compression, then I highly recommend these socks!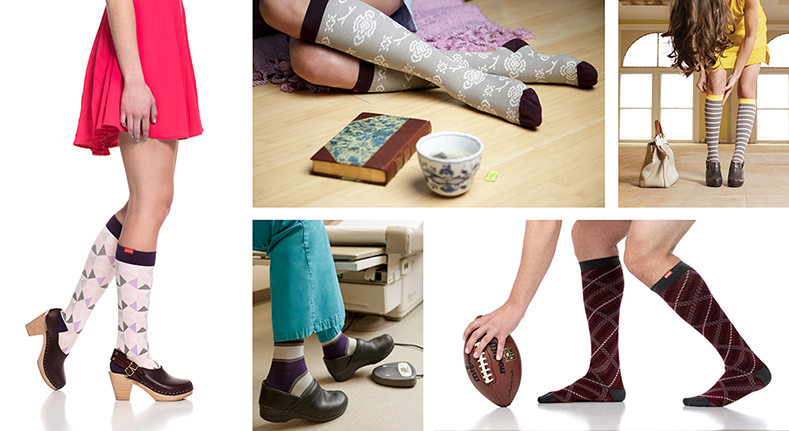 Neutrogena Hydro Boost Hydrating Whipped Body Balm
My skin gets very dry and itchy, especially during winter. This lotion works the best to hydrate my skin instantly, and the relief generally lasts for two days. I highly recommend this for dry and itchy skin.

Biofreeze Professional Pain Relief Gel
One of my must-haves for natural pain relief. Works great to numb pain, especially nerve pain. Check out other natural pain relief options in my post about chronic pain management.

Metagenics — Hemagenics For Red Blood Cell Health
I take this iron and B vitamin supplement several times a week to keep my iron and ferritin levels up. Take with orange juice or vitamin C to optimize absorption. Also, take it with food to avoid any stomach upset.

L'ANZA Keratin Healing Oil Hair Treatment 
My hair easily dries out and breaks. At one point, it really distressed me how much of hair was breaking off. But this stuff saved it! Now my hair is growing long and strong, and it makes my hair so soft!

Elasto Gel Hot/Cold Wrap
This wrap is a necessity for icing post-exercise or after long hours on my feet. It's also wonderful for hot days when my feet swell from blood pooling. Plus, this wrap comes in various shapes and sizes for whatever body parts you have trouble with most.

NewChapter – Elderberry Force – 30 Vegan Capsules
I take this once daily during flu season to keep my immunity in tip-top shape. Check out this 2016 study for the immunity-boosting properties of elderberry against cold and flu viruses.


I'll update this page regularly, so be sure to check back!