Recently, I tried VIM & VIGR compression socks, and my honest verdict is that I really really love them! If you're looking for stylish compression socks with fun and fashionable patterns plus all the benefits of compression, then these are the socks for you!


I have been waiting for someone to make compression socks in colors and patterns like fashionable boot socks I'd normally wear in the winter. You know, so I'd actually want to wear them to manage my POTS symptoms. After two years, my long search is finally over!


VIM & VIGR stylish compression socks come in a wide variety of fun colors and patterns. Plus, they're available in three different levels of compression (15-20 mmHg, 20-30 mmHg, and 30-40 mmHg). So no matter what level you need to manage your symptoms, they've got you covered.


These compression socks come in various fabrics, such as cotton, nylon, merino wool, and moisture-wick nylon. They are easy to get on–as long as you purchase the right size!–so you don't have to strain and yank them on. Also, the upper band on these socks do not hurt my legs. Other pairs I've worn have had tight upper bands that after a while tend to dig into my skin and leave painful marks. VIM & VIGR has a comprehensive size guide, which includes wide calf options, so it's much easier to find your most comfortable fit.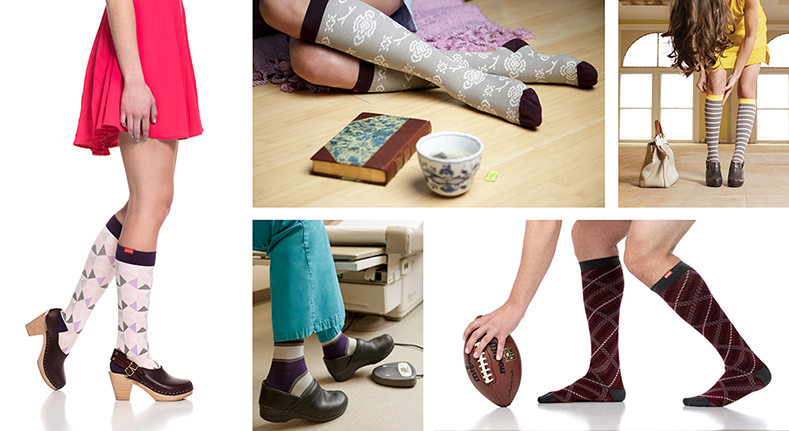 Listen, compression isn't only helpful for people with POTS. It's beneficial for anyone who works long hours on their feet or has varicose veins, as well as for pregnancy, exercise, and travel. 


One 2016 study found that those with chronic venous insufficiency experienced a significant improvement in pain and quality of life from wearing compression stockings. Chronic venous insufficiency can cause pain and discomfort that interferes with a person's physical mobility. It can also lead to outcomes such as varicose veins, edema (swelling), and venous hypertension. 


Another 2018 study found that compression socks may help lessen post-exercise syncope episodes in vulnerable populations. That means for those of us with POTS and orthostatic intolerance, wearing compression socks can aid our bodies' recovery from exercise and reduce symptoms experienced after we smash an exercise session.  


Wearing compression socks during high-intensity running can even improve performance during your next run, according to one 2019 study. Researchers believe this result "may relate to improved oxygen delivery, reduced muscle oscillation, superior running mechanics, and athlete beliefs."


I can tell you first-hand how amazing compression socks are for being on my feet for a long time, running, and traveling long distances. Compression helps alleviate my foot and leg pain, tachycardia, dizziness, and fatigue associated with blood pooling. 




Besides the health benefits, I really love how stylish these compression socks are. I'm not embarrassed at all to wear them out and about. For that aspect alone, I am extremely grateful to VIM & VIGR for making this product and for making it with such high quality. It's one thing to need to wear compression to control symptoms, but as a twenty-something fashion-lover, I felt so embarassed to let anyone see me wearing what most people would label as an "old-person" garment. VIM & VIGR compression socks allow me to feel more like myself and my age. Which, as someone with multiple chronic illnesses in my twenties, is priceless to me.


In fact, I wear these socks proudly because I want to show them off! When I go for a run, I wear cropped leggings so that my stylish compression socks peek out in the space between my shins and sneakers. When I look at them, I'm planning cute outfits in my head that compliments them. VIM & VIGR has completely transformed the way I look at compression socks. I'm beyond grateful to have found a product that both looks cute and effectively helps me to manage my symptoms. 


Have you guys tried compression before? If so, when do you wear it the most, and how well do you think it helps you? 


I hope you've found this review to be helpful. Maybe in some small way, you even related to what I had to say. For more information, check out my post dedicated entirely to compression and its benefits for POTS patients.
 

That's all for now!


XO,
Laurie